Forfait mama
Information about the project of care for pregnant mothers
Monkole receives a large number of people with few resources, especially pregnant mothers. For this reason, special care has been taken from the outset in the areas of maternity and paediatrics. This iswhy the new hospital has a neonatal and paediatric intensive care unit. In order to meet all these challenges, the Friends of Monkole Foundation has created the Mommy Pass Project.
This project seeks from a fixed fee of 55$ (50 ? approx.) paid by the mothers themselves that can be treated during pregnancy (including ultrasounds), delivery and post delivery at the hospital. Even if it is necessary due to his health condition, the newborn can be treated in the neonatal unit until his recovery.
The average real cost of this care is 500 euros, which generates very large losses to the Hospital. Therefore, from the Friends of Monkole Foundation we want to continue with this social project and manage to reduce the mortality rates.
Some data on the situation in the D. R. of Congo:
For every 100,000 children born alive, 693 mothers die in childbirth. While there are 25 in Chile, 21 in the USA, 8 in France, 6 in Spain and 4 in Italy.
For every 100,000 children born alive, 7,100 die in the days following birth. While there are 690 in Chile, 590 in the USA and 330 in Spain, France, Italy.
As part of our aim to change health care in the Congo, we have carried out a number of projects with different aims so that we can diversify different medical objectives. You can find out about the rest of the projects by clicking here.
In 2017 the average is almost 3 births per day with 585 births or caesarean sections in the first 8 months of the year in Monkole. 969 births or caesarean sections were performed in 2018. If a projection is made and taking into account the number of mothers included in the Mother's Kit, we calculate around 1200 deliveries and Caesarean sections for 2019 and around 1600 for 2020.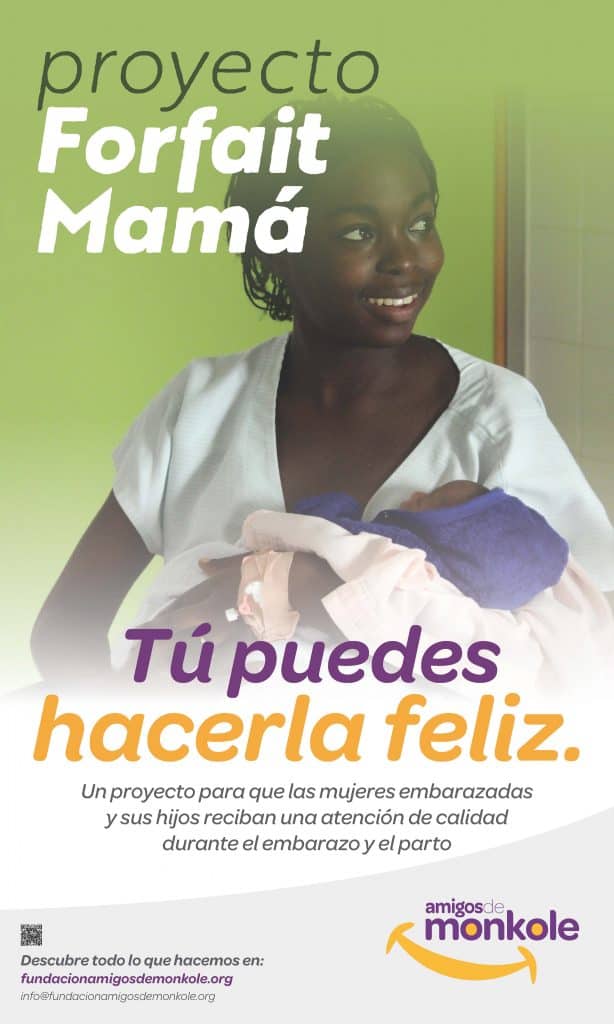 If we make a projection and taking into account the mothers incorporated into the Mother's Spread Project, we calculate around 900 births and Caesarean sections by 2017.
The more shocking data is that there has not been any mother who has died in childbirth or cesarean section.
GET TO KNOW THE PROJECT ON VIDEO:
From the Amigos Foundation we wanted to record the development of the project as told by the Head of Maternity at the Hospital and by the mothers themselves.
Project "Prenatal care in the area of influence of the Monkole Hospital Centre in the Democratic Republic of the Congo" partially financed by the Barceló Foundation together with the Friends of Monkole Foundation.